Two Max Planck Institutes on 13 info panels
New walkaround at the Campus Martinsried provides exciting insights into research and everyday life at the institutes
The Max Planck Institutes for Biological Intelligence and of Biochemistry have designed a walkaround at the Campus Martinsried. The panels contain a wealth of information about the history and research as well as the day-to-day activities at the two institutes – and they provide a brief outlook on how the campus will develop in the future.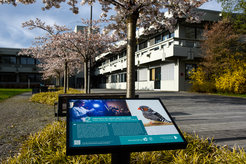 The best way for visitors to explore the new walkaround is during a walk on site in Martinsried – much of the content relates directly to the respective location of the information panels. But the walkaround can also be visited virtually from home via the website set up for this purpose.
The information panels were designed jointly by the two institutes as part of the celebrations marking the 50th anniversary of the Max Planck Institute of Biochemistry.