Otto Hahn Medal thanks to an optical illusion
Yunmin Wu receives award for outstanding research
For her insights into the neuronal mechanism of motion perception, Dr. Yunmin Wu is awarded the Otto Hahn Medal. The scientist at the Max Planck Institute of Neurobiology decoded the neuronal basis of an optical illusion in the zebrafish brain. For her achievements, she now receives the 7500€ prize of the Max Planck Society, which is awarded annually for excellent scientific achievements by young talents.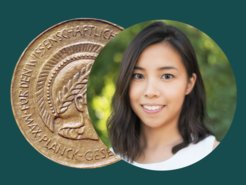 It all started with a cat video. After Yunmin Wu saw that optical illusions also work in animals, the doctoral student came up with the idea for her own research. She would trigger the motion aftereffect, also called the "waterfall illusion," in the tiny zebrafish larvae she was studying in Herwig Baier's department. In this way, she sought to better understand what actually happens in the brain when movements are perceived.
In the brain, several thousand neurons process movements and their direction. Using the waterfall illusion, Yunmin Wu was able to show that only a handful of cells out of this large number of neurons are necessary and sufficient for motion vision*. "If we ask the right questions with the right tools, we are able to see very interesting things that we didn't know before," Yunmin Wu affirms. "It's the idea behind my project that I'm proud of. I'm very pleased that this is being recognized by the Max Planck Society and the award committee."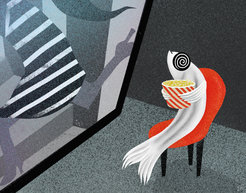 Yunmin Wu has been working as a strategy consultant with a focus on life sciences in Munich since the beginning of 2021. She continues to apply the knowledge from her doctoral thesis in her current professional life. "Sometimes the methodologies we use in basic research are also applied in the industry. We just ask different questions. My scientific background and associated way of thinking definitely helps me with my new work."
She found out about her prize through a call from her former PI: "One day Herwig Baier called and said, 'Congratulations!' and I just asked, 'What for?'. He explained and said, 'We are so proud of you'. The call from Herwig and learning about the award was quite a wonderful moment," Yunmin Wu recalls.
***
Since 1978, the Max Planck Society has awarded up to 40 young scientists each year for extraordinary achievements in their doctoral theses. This year, the award ceremony will take place digitally on June 22 during the Annual General Meeting of the Max Planck Society.
* In an interview, Yunmin Wu reports in detail about her study: An optical illusion provides insights into the brain.