Awarding the research of young scientists
Johannes Larsch and Daniel Gehrlach receive the Young Scientist Award 2019
True to the motto "postponed is not canceled", the Young Scientist Award, endowed with 1000 €, was also awarded this year - due to Coronavirus pandemic, however, somewhat later than originally planned. Aiming to recognize outstanding research of young scientists, this year´s award went to Johannes Larsch and Daniel Gehrlach for their publications in Current Biology and Nature Neuroscience. While Johannes analyzed the shoaling behavior in fish, Daniel studied the insular cortex and the negative emotions that it processes. By doing so, both scientists – despite their differing research topics – significantly added knowledge to the basic neuronal mechanisms that underlie different patterns of behavior.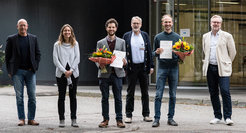 The award-winning publications and authors
Johannes Larsch

Johannes Larsch studied Biology at the University of Konstanz and obtained his doctoral degree at the Rockefeller University in New York, USA. In 2015 he joined the department Genes – Circuits – Behavior of Herwig Baier for his postdoctoral studies, where he continued his work as a project leader in 2018.
Daniel Gehrlach
Daniel Gehrlach studied Pharmaceutical Biotechnology at the University of Applied Sciences in Biberach. After that, he completed the International Graduate Program in Medical Neurosciences at the Charité Medical University Berlin. In 2014, he started his doctoral studies in the research group `Circuits for emotions´ of Nadine Gogolla, where he successfully graduated in 2020.