Georg W. Kreutzberg, 1932 - 2019
Professor Dr. Dr. h.c. Georg Kreutzberg, an outstanding neuropathologist and esteemed colleague, passed away on the 20th of March at the age of 86 following a short, but serious illness.
The central nervous system is a highly complex system in which diseases or injuries usually have severe consequences. With his research, Georg Kreutzberg made significant contributions to our current understanding of the brain's repair and regeneration mechanisms after such damage. In his early studies, he was able to show that damage to nerve cells is associated with an increase in so-called microglia cells. Georg Kreutzberg dedicated his work to the investigation of these brain-specific defense cells and the role they play following nerve damage.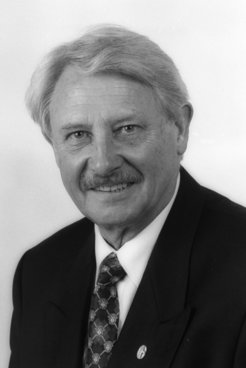 Georg Kreutzberg joined the Theoretical Institute of the Max Planck Institute (MPI) of Psychiatry, now the MPI of Neurobiology, in 1978. Here, he chaired the Department of Neuromorphology and directed, as Managing Director, the Institute's fortunes for many years.
Together with his team, Georg Kreutzberg demonstrated that microglial cells recruited at the site of an injury led to the decoupling of the synapses of the damaged nerve cells. His studies also revealed the role of microglial cells in brain tissue monitoring: Whenever the cells perceive a pathological change in their environment, they trigger the production of a number of substances. These substances and the processes set in motion make a crucial contribution to the nerve cells' regeneration program.
The results of these studies won Georg Kreutzberg international reputation. His discovery of the blocking effect of colchicine on axonal and dendritic transport in nerve cells as well as the insights he gained into the activation concept of microglial cells revealed new directions, which led to a better understanding of many brain diseases.
Georg Kreutzberg's commitment went far beyond his own research. He was firmly committed to the active exchange between journalists and scientists and, among other things, founded the European Initiative for Science Communication (EICOS). He also advocated ethical behavior in research and was actively involved in the development of generally binding guidelines to ensure good scientific practice.
Georg Kreutzberg's passion for an active exchange between science and society continued well after his retirement. Until recently, he played an active role lecturing on these topics throughout Germany, both as a consultant and in honorary positions.
We will remember Georg Kreutzberg as a passionate scientist and thank him for his great commitment to our Institute and his devotion to the importance of scientific research in society.
Georg W. Kreutzberg was born on the 2nd of September 1932 in Ahrweiler in the Rhineland-Palatinate. He studied medicine and psychology at the universities of Bonn, Freiburg and Vienna. He received his doctorate in Freiburg and his post-doctoral qualification (German: Habilitation) in neuropathology from the Technical University of Munich in 1971. He worked as a postdoctoral fellow at the Massachusetts Institute of Technology in Cambridge (USA). As visiting scientist, he also worked at the Rockefeller University in New York City and the Brain Research Institute of the University of Zurich. In 1978, he was appointed as Scientific Member and Director of the Theoretical Institute of the Max Planck Institute of Psychiatry in Munich. The Institute, which was relocated to the Martinsried campus in 1984, became the independent Max Planck Institute of Neurobiology in 1998. At the institute, Georg Kreutzberg chaired the Department of Neuromorphology until his retirement in 2000.
His work was recognized through numerous scientific awards. In 1991, Georg Kreutzberg received an honorary doctorate from the University of Szeged, Hungary, and was awarded the German Federal Cross of Merit 1st Class in 2007.