Science unites cultures
'The Science Bridge' initiative brings together neuroscientists from Western and Middle East/South-Asian countries
More than 200 scientists from around the world, including 29 Nobel Laureates, hope to build new bridges between research communities. The aim of their 'The Science Bridge' initiative is to strengthen intercultural research collaborations in order to accelerate scientific progress – and by doing so, to improve relations between the diverse cultures of the world. "Bringing neuroscientists together across national, cultural and political lines will aid our understanding of the brain and its illnesses, but it will also help build further intercultural relationships which will be of great benefit for all society", says Tobias Bonhoeffer, Director at the Max Planck Institute of Neurobiology and member of the initiative. The goals of the initiative are highlighted by 122 authors from 22 countries in the scientific journal Neuron.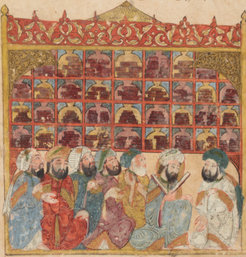 The "Golden Age" of the medieval Arab and Persian cultures distinguished itself by a climate of tolerance toward various beliefs and values, intercultural exchange, protection of human rights, and freedom of speech. In that era, scientists from countries of the Middle East/South Asia and today's Europe came together to discuss their research and theories without fear of repression. Their results brought significant advances in natural sciences and medicine.
The authors of the Neuron article see this historic model of tolerance and free exchange of ideas as an inspiration for building new bridges between Western countries and those of Middle East/South Asia through science today. "Science might be successful in bringing cultures together as it relies on reason and logic. Joined international research projects could thus help, for example, to defuse excessive nationalism or censorship, rebut "alternative facts", and bring shared medical advances", says Mazahir T. Hasan, Ikerbasque Professor at the Achucarro Basque Center for Neuroscience and founder of the initiative.
'The Science Bridge' initiative aims to foster new intercultural collaborations with particular focus on neuroscience and medical research through scientific conferences, exchange programs and shared grants. In addition, the initiative plans to establish so-called 'Twin Institutes', where scientists from Middle-Eastern/South Asian and Western countries join their research. Thomas Lissek, the publication's first author and medical student at the University of Heidelberg sums it up: "Our key motivation is to accelerate scientific progress by establishing new friendships and new collaborations around the world." Fortschritt voranzutreiben, indem wir neue Freundschaften und Kooperationen in der ganzen Welt etablieren."
The text is based on a publication of The Science Bridge initiative.