Inauguration of centre for research into animal migrations
A new joint research centre of the Max Planck Society and Yale University will promote the study and protection of biodiversity
From butterflies to whales, life on earth is perpetually in motion. At the same time, the conditions for life on our planet are changing rapidly. The Max Planck Society and Yale University have teamed up to advance the study of animal movements in changing habitats. In this spirit, they officially inaugurated a joint research center on 2 May. In addition to developing new technologies and methods, the Max Planck - Yale Center for Biodiversity Movement and Global Change will facilitate the exchange of knowledge between researchers and promote the education of young scientists. "The new centre is something very special, because it will not only significantly further the study of ecology and biodiversity but also raise public awareness of potential threats to our natural habitat by using animals as sensors of environmental change," as Max Planck President Martin Stratmann stated.

It was not so long ago that humans were still completely mystified as to why some birds disappear for part of the year. Not until we started ringing birds did we learn where they fly to and the fact that they cross entire continents on their travels. We now know that many creatures other than birds also migrate, whales, zebras and monarch butterflies being just some of the best-known examples.
Migrating animal species are adapted to various living conditions. They perceive local living conditions and often respond to changes with exquisite sensitivity. As sensors of global change, migrating animals can convey a snapshot of the state of the Earth − in real time and more accurately than modern technical devices. From this, researchers can identify potential dangers that threaten the survival of species and also gain insights into the spread of diseases and pests.
Transmitters replace rings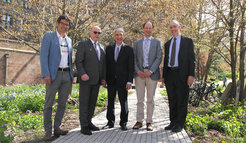 Nowadays scientists no longer have to ring animals to follow them on their journeys. Tiny transmitters, which can be located via antennas and satellites, pinpoint exactly where the animals are at any given moment. The latest transmitters are only as large as a fingernail and weigh just one gram. The mini-devices not only transmit the animals' coordinates to a receiving station in space but can also measure acceleration and environmental data.
Scientists are using new technologies to collect and analyze large volumes of biological, geographical and environmental data to study biodiversity. To do so, biologists, statisticians, computer scientists and geoscientists have joined forces. The new centre of the Max Planck Society and Yale University provides ideal conditions for such a multidisciplinary approach, since the two partners – the Max Planck Institute for Ornithology in Radolfzell and the Yale Center for Biodiversity and Global Change − complement each other ideally with regard to the study of animal migrations.
Martin Wikelski is one of the initiators of the Icarus initiative at the Max Planck Institute for Ornithology. His goal is to study the migration of a wide range of animal species with partners around the world. The mini-transmitters developed for Icarus will send their measurements to a receiving station on the International Space Station. Scientists around the world will then be able to access the data via the Movebank database developed by Wikelski and his coworkers. In addition, the institute counts Iain Couzin among its ranks, an expert in swarm behaviour. Together with the University of Constance, the institute is also setting up a Center for Visual Computing of Collectives to study group behavior. Here, scientists can observe animal swarms in virtual holographic 3D environments and precisely measure their movements.
Yale Center for Biodiversity and Global Diversity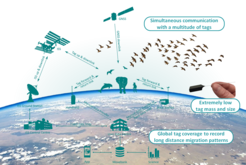 The Yale Center for Biodiversity and Global Change, for its part, is devoted to biodiversity research. Its researchers aim to improve the analysis of geographical and environmental data, animal movements and species distributions, for example by using the Map of Life, a platform for analyzing species diversity. The scientists are also developing a NASA-supported system for analyzing global biodiversity. In addition, they are studying the genetic diversity of species and the ecological impact of diseases and are working to improve the analysis of large volumes of remote surveillance data.
The researchers at the Max Planck - Yale Center for Biodiversity Movement and Global Change plan to develop new technologies for improving our understanding of animal movements and the distribution of species in changing landscapes. To this end, they will develop new technologies and methods as well as interlinking existing technologies such Movebank and the Map of Life. This should make it possible to more easily identify and analyze relationships between animal movements and other remote surveillance data.
The Max Planck Society and Yale University are sponsoring the center in equal parts with a total contribution of five million euros over a five-year period. A large part of the budget will go into funding joint projects and training young scientists. For example, the two research institutes will each employ two scientists who work closely with each other and with PhD students affiliated with the project. An exchange program, workshops and summer schools will promote cooperation across international borders and scientific disciplines.
HR